Posts for: September, 2021
By Okun Dentistry
September 20, 2021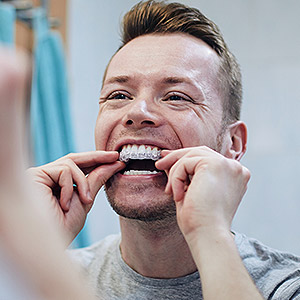 Are your stained teeth bumming you out? There's good news—you can transform that dull and dingy smile yourself with a tooth whitening product.
There are dozens of over-the-counter whitening kits that allow you to brighten your own smile. Although not as controlled and long-lasting as a dentist's professional whitening, these DIY kits can still give you effective results.
But since these products involve chemical solutions that bleach tooth enamel, there's a common concern about their safety. Could you be harming your teeth by using a home whitening kit?
The answer is no—as long as you follow the manufacturer's directions for using the product. These kits have been formulated with a lower percentage of bleaching agent (usually 10% carbamide peroxide) than whitening solutions used by dentists. They've also been subjected to several clinical studies gauging both their effectiveness and safety.
That said, though, exceeding a product's recommended directions and frequency of use could cause you problems. If not used properly, a bleaching solution can erode tooth enamel—and this protective tooth layer doesn't grow back! As long as you whiten "within the lines," so to speak, you shouldn't encounter this kind of situation.
With that said, though, there are good reasons to consult your dentist before using a whitening product, or have them perform the whitening for you.
For one thing, an over-the-counter whitening product won't work if the staining originates from inside a tooth. It's wise, then, to have a dental examination first before using a whitening product to uncover this or any other underlying dental problems that should be addressed first.
You may also find a professional whitening will give you a more desirable result. A stronger professional bleaching solution under a dentist's expert control can produce a brighter, longer lasting smile than a home use product. A dentist may also be able to control the level of brightness better to help you achieve the smile effect you desire, from subtle white to ultra-bright.
Whichever way you go, your dentist can advise you on your options and make sure your teeth are in good shape for whitening. The end result can be a brighter smile—and a brighter mood.
If you would like more information on teeth whitening, please contact us or schedule an appointment for a consultation. You can also learn more about this topic by reading the Dear Doctor magazine article "Tooth Whitening Safety Tips."
By Okun Dentistry
September 10, 2021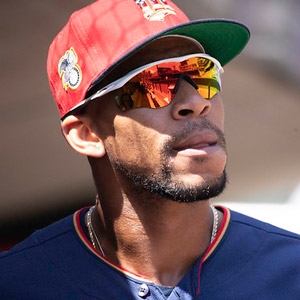 During this year's baseball spring training, Minnesota Twins center fielder Byron Buxton got into a row with a steak dinner—and the beefsteak got the better of it. During his meal, the Gold Glove winner cracked a tooth.
Fortunately, he didn't lose it. Buxton's dentist rescued the tooth with a dental procedure that's been around for over a century—a root canal treatment. The dependable root canal is responsible for saving millions of teeth each year.
Dentists turn to root canal treatments for a number of reasons: a permanent tooth's roots are dissolving (a condition called resorption); chronic inflammation of the innermost tooth pulp due to repeated fillings; or a fractured or cracked tooth, like Buxton's, in which the pulp becomes exposed to bacteria.
One of the biggest reasons, though, is advanced tooth decay. Triggered by acid, a by-product of bacteria, a tooth's enamel softens and erodes, allowing decay into the underlying dentin. In its initial stages, we can often treat decay with a filling. But if the decay continues to advance, it can infect the pulp and root canals and eventually reach the bone.
Decay of this magnitude seriously jeopardizes a tooth's survival. But we can still stop it before that point with a root canal. The basic procedure is fairly straightforward. We begin first by drilling a small hole into the tooth to access the inner pulp and root canals. Using special instruments, we then remove all of the infected tissue within the tooth.
After disinfecting the now empty spaces and reshaping the root canals, we fill the tooth with a rubber-like substance called gutta percha. This, along with filling the access hole, seals the tooth's interior from future infection. In most cases, we'll return sometime later and bond a life-like crown to the tooth (as Buxton's dentist did for him) for added protection and support.
You would think such a procedure would get its own ticker tape parade. Unfortunately, there's a cultural apprehension that root canals are painful. But here's the truth—because your tooth and surrounding gums are numbed by local anesthesia, a root canal procedure doesn't hurt. Actually, if your tooth has been throbbing from tooth decay's attack on its nerves, a root canal treatment will alleviate that pain.
After some time on the disabled list, Buxton was back in the lineup in time to hit his longest homer to date at 456 feet on the Twins' Opening Day. You may not have that kind of moment after a root canal, but repairing a bothersome tooth with this important procedure will certainly get you back on your feet again.
If you would like more information about root canal therapy, please contact us or schedule a consultation. To learn more, read the Dear Doctor magazine article "A Step-By-Step Guide to Root Canal Treatment."